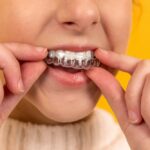 Invisalign and Face Shape: How Invisalign Can Have a Positive Impact on Your Face Shape
February 16, 2021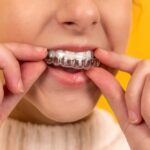 How Long Does Invisalign Take to Work?
March 1, 2021
Our Guide to Vaping and Oral Health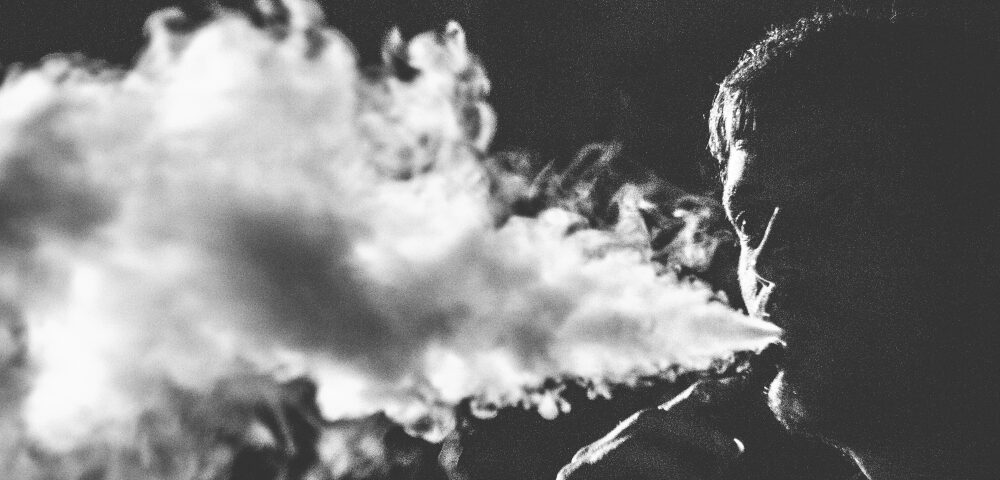 With the introduction and rise in popularity of e-cigarettes, many people use them as an alternative to smoking. However, like cigarette smoking, vaping can have a detrimental effect on your whole body, including your oral health. At Langley Dental Care, we want our patients to have all the information needed to preserve their smiles. Therefore, we've created this guide on vaping and oral health.
Vaping and Oral Health Dangers
Vaping has a negative effect on oral health due to the chemicals used as delivery systems for nicotine. For example, propylene glycol is the main liquid used as a carrier. This substance has a sweet flavor; unfortunately, in the mouth, saliva breaks down this chemical into several acids, including lactic acid and acetic acid. Acids such as these can damage tooth enamel and mouth tissues. Additionally, propylene glycol dries out the mouth, reducing the available bacteria-fighting saliva. Therefore, the likelihood of cavities increases.
Another problem with vaping is the use of a combination of vegetable glycerin and flavorings also impact enamel hardness. In a study comparing flavored versus unflavored e-cigarettes, those who used the former had 27% softer enamel than those who used unflavored alternatives. While vegetable glycerin does not have sugar or promotes cavities alone, it contributes to the viciousness of the liquid, which promotes bacterial adhesion to the teeth, increasing the chances of periodontal disease.
Physical Injuries to the Teeth Caused by Vaping Incidents
In addition to oral disease, the lithium-ion batteries used in some e-cigarette models can explode, causing severe physical injuries to the mouth and teeth. These types of injuries may often require restorative dentistry, such as implants to replace severely damaged teeth. Though explosions are less likely to occur than harm to the natural bacterial balance inside the mouth, between 2009 and 2016, 195 of these explosions happened.
Vaping Worse than Smoking Combustible Cigarettes
Because vaping does not require burning combustible cigarettes that often have toxic filler ingredients, many people erroneously believe it to be a safer alternative. However, the problem occurs not in those trying to quit smoking cigarettes but in those who never used tobacco products, which turn to vaping.
In fact, in 2018, 20.8% of surveyed high school students reported using e-cigarettes, a much higher percentage than those who used other tobacco products. Many students surveyed had only used vaping and never tried other forms of tobacco.
The concern with vaping comes from its concentrated form. For example, each individual combustible cigarette contains approximately 1.2 mg of nicotine. However, in each e-cigarette liquid cartridge, the amount of nicotine can range from 6 mg to 48 mg. Users are not supposed to use the full amount, which averages 200 puffs, at one time. However, some do, taking in the equivalent of between five and 40 cigarettes of nicotine.
In addition to the high levels of nicotine, e-cigarettes can also have other chemicals in the liquid. For instance, in 2014, the FDA examined the components of an e-cigarette cartridge and found diethylene glycol, which often appears as an ingredient in both antifreeze and explosives. It also has a toxic effect on the human body.
Other toxicants in e-cigarettes include propylene glycol, vegetable glycerin, and flavorings, all of which can negatively impact lung and oral health. In fact, modern research indicates that the levels of toxins in some e-cigarettes may present an elevated concern, while other studies indicate lower levels. As the technology evolves, though, toxin exposure from e-cigarettes has increased in users, especially those experiences with vaping.
Overall, vaping is not a healthier alternative to cigarette smoking. Additionally, it could expose users to different toxins and higher levels of nicotine, both of which can affect the entire body, including the mouth.
The Stance on Vaping and Oral Health from the American Dental Association
Vaping presents such a significant hazard to oral health that the American Dental Association (ADA) has released a statement concerning e-cigarette use. In the statement, the ADA president indicated that vaping has the potential to pose the same level of danger to oral health as traditional cigarettes. The organization advocates for adding vaping to its stance on the damaging effects of tobacco on oral health.
The ADA also promotes legislative action to reduce youth vaping and easy access to vaping products, starting with a recommendation to eliminate flavored vaping products.
With such a distinguished group of dental professionals advocating for reduced vaping use, the dangers to oral health from vaping are clearly present. Quitting vaping is only one step to take, though, toward improving dental hygiene.
Caring for Oral Health Starts with Maintaining Good Dental Hygiene
Good oral hygiene is essential for everyone. However, it is even more crucial for the oral health of those who vape. Because the chemicals in e-cigarettes can cause dry mouth, drinking water regularly and staying hydrated is important while trying to quit vaping. Additionally, regularly brushing and flossing are crucial for preventing bacterial growth in the mouth.
While everyone needs regular dental exams, those who vape should consider more frequent evaluations to watch for signs of cavities or periodontal disease, which is more common in those who vape, ideally, quitting is the best choice, but until then, those who use e-cigarettes need to partner with their dentists to ensure they take the best care possible of their whole mouth.
Partner with Us at Langley Dental Care for Helping You Preserve and Protect Your Oral Health
We work to build healthy smiles and relationships with our patients. One way that we at Langley Dental Care have done this is by providing more information on our blog covering special dental topics, such as vaping and oral health. Our practice also provides preventative, restorative, and cosmetic dental services. You also play a role in improving your oral health through good dental hygiene.
Regular exams and cleanings from a local professional will help you maintain your dental health. If you are in the Charlotte, NC, area, make your dental partner our team at Langley Dental Care. Contact us today to find out more about us or to set an appointment.